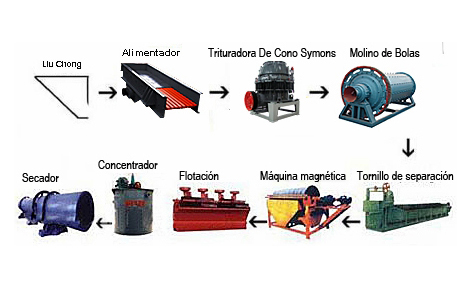 Ore Beneficiation or Dressing Plan
Feeding Size: 0-100 mm
Capacity: 1- 300 ton per hour
Processing materials:
Mineral ore like iron ore, chrome ore, copper ore, zinc, rare earth, etc.
Ore dressing machines or ore beneficiation plant are the important equipment in mineral deep processing, mine mining company or metallurgical industry choose different flotation machine to get high grade metallic element. How to choose suitable mineral processing machines or design plant according to the features of mineral are becoming more and more important.

Ore Beneficiation or Dressing Plan Specifications
Ore dressing method can be divided to different types according to the different ore minerals of physical and chemical properties. Usually, there are gravity dressing, flotation, magnetic separation method, electric separation method, and so on. Company use these beneficiating methods to separate useful mineral and gangue mineral from raw material, and also make all kinds of symbiotic useful mineral separate as far as possible. After this process, it can get the useful ingredients for smelting or other industry. Ore dressing make useful component enrichment and reducing cost in ore smelting or transportation. It can also increase the low grade lean ore of economic use. Mineral ore dressing experiment is also an important step, ore dressing experiment data is the main basis for deposit evaluation and the plant design. As we all know, the world mineral resources increasingly poor, most of ram ore mine are of low grade ore and complex ore, besides a few rich ore, most of metal and non-metallic ore are needed to ore dressing. So it has a large require of ore dressing.

Ore Dressing Equipment
Ores that suitable for ore dressing are copper ore, tin ore, iron ore, mithril deposit, iron ore, fine gold mine. Ores that unsuitable for ore dressing are silver ore, gold mine, really silver ore, black iron ore, constant gold mine, krypton gold mine and so on. The common seen ore dressing methods are gravity dressing, flotation, magnetic separation method, electric separation method, and equipment that used in these processing are different.
Gravity dressing method is to separate ore fines by using mineral raw material particles of different proportion in the medium (mainly water). Equipment used in gravity dressing are jigging, shaking table, spiral chute, etc.
Flotation principle is use the differences of various mineral raw material particle surface of the water wettability (hydrophobic or hydrophilic). Equipment used in flotation process are flotation machine, flotation cell, flotation columns, flotation pumps, etc.
Magnetic separation is the use different of mineral particle magnetic in the uniform magnetic field. Equipment used in magnetic separation processing are magnetic separator, permanent magnetic separator and electromagnetic iron removal machine, etc.
Electric separation is the use of mineral particle electric property difference in the high voltage electric field. Equipment used in electric separation process are electrostatic separator, corona separator and composite electric field electric machine, etc.
Ore Dressing Plant
These ore dressing equipment and plant manufactured by Liming Machinery are all adopted with new structure, material and technology. They are of high efficiency and low energy consumption. By now, we have following ore dressing an beneficiation plant used in mineral ore processing industry, such as iron ore dressing plant, bauxite dressing plant, iron processing plant, kaolinite processing equipment, chrome ore dressing plant, copper ore dressing equipment, magnetite iron ore beneficiation equipment, gold ore beneficiation plant, limonite beneficiation plant, manganese beneficiation plant, rare earth beneficiation plant, zinc flotation plant and so on. We can also provide customer with complete technical support, suitable ore dressing plant design, best pre-service and after-service. If you need more support, please feel free to contact with us!
Notice: Any change of Ore Beneficiation or Dressing Plan technical data shall not be advised additionally.