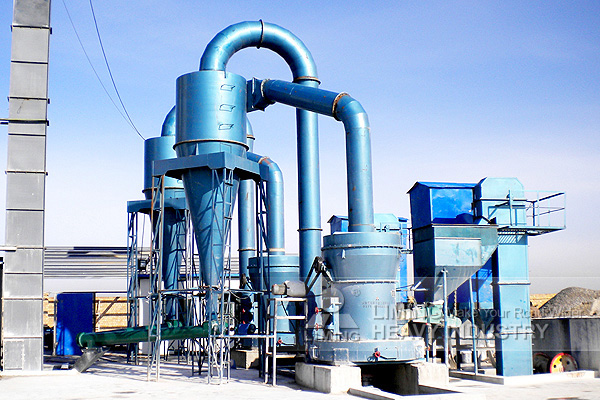 Barite Grinding Plant & Application
Feeding Size: 10-40 mm
Capacity: 1 to 30 ton per hour
Processing materials:
calcite, feldspar, talc, marble, limestone, dolomite, fluorite, bentonite, kaolin, etc.
Barite is widely used as heavy weight additive in the petroleum, natural gas, drilling mud. In the chemical industry, paper-making, textile filler, glass production, it can act as a flux and increase the brightness, glass, barite consumption is growing year by year . How effective processing barite and choose suitable barite process becomes particularly important.

Barite Grinding Plant & Application Specifications
Barite grinding mill is a new patented grinding mill which is launched by Liming group. The barite grinding mill is especially suitable for large thermal power plant desulfurization and steel desulfurization. And by the European Union CE certification, so that it can directly enter the EU market. Liming barite mill can also be used for processing calcite, feldspar, talc, marble, limestone, dolomite, fluorite, lime, activated clay, activated carbon, bentonite, kaolin, cement, phosphate rock, gypsum, glass insulation materials Mohs hardness of not greater than 9.3, the humidity in less than 6% of non-flammable mineral, chemical, construction and other industries over 300 kinds of high-fine powder processing, the fineness of materials up to 2000 mesh.
Barite grinding mill main features:
1. Trapezoidal device, delaying the material falling speed, increasing the grinding time, a substantial increase in production;
2. Connection using the new damping to reduce noise and to avoid resonance, prolonging life;
3 new supercharged unit, fineness adjustment quick and easy;
4. Energy efficient fans, when the capacity of 40 tons or more;
5 automatic continuous discharge fully meet the requirements of environmental protection.
Liming barite grinding mill crush big lumps of raw materials to the required feed size, bucket elevator machine materials will be transported to the storage silos, and then sent to the host mill evenly by the electromagnetic vibrating feeder indoor, indoor materials into grinding blade scoop into between the roller and grinding ring crush blower blown into the air from the shunt disk grinding chamber, crushed powder to the analysis room after passed by the Motor gear driven rotating impeller sorting analysis, large particles fall back to the grinding chamber materials, re-grinding, qualified fine powder with the airflow into the finished product cyclone powder collector, separated with air discharged from the discharge port for the finished product. The host course of their work, the blade system has played a very important role. In the lower end of the grinding roller blade and roller with the transfer process, the material scooped up throwing feeding grinding roller between the roller ring, the formation of the litter layer, the material layer by grinding rollers rotating produce out of the squeeze pressure of the material crushed, so as to achieve the purpose of pulverizing.
Notice: Any change of Barite Grinding Plant & Application technical data shall not be advised additionally.